Welcome To My
Car Servicing
My car servicing is an online service dedicated to providing quality car servicing at great prices, enter your registration number to see how much you can save on franchise & main dealer car service costs.
My car servicing offers a network of garages across the UK dedicated to providing quality services at a competitive rate. All our garages are equipped with the latest technology and only fit approved OE parts.
Maintaining your manufacturer's warranty at all times, our approved garages will stamp your service book and reset any service lights following your service.
Our Service
My car servicing's nationwide network of garages only employ staff who are trained to the highest of standards, this ensures that every garage that operates within our network adheres to our strict quality check list. We audit our garages regularly for quality of work, pricing and customer service standards.
All our telephone support staff are fully trained as service technicians, allowing us to give you accurate and qualified advice ensuring continuity throughout your entire My car servicing experience.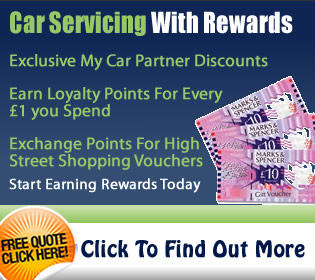 Why Service?
Servicing your vehicle is one of the most important things you can do to maintain your cars performance, safety and fuel efficiency - as well as increasing the overall life of your car.
A regular service will pay for itself over the life of the vehicle and will ensure you, your family and other road user's safety.